RDP thinbook 1010 review, The Best Laptop Under 20000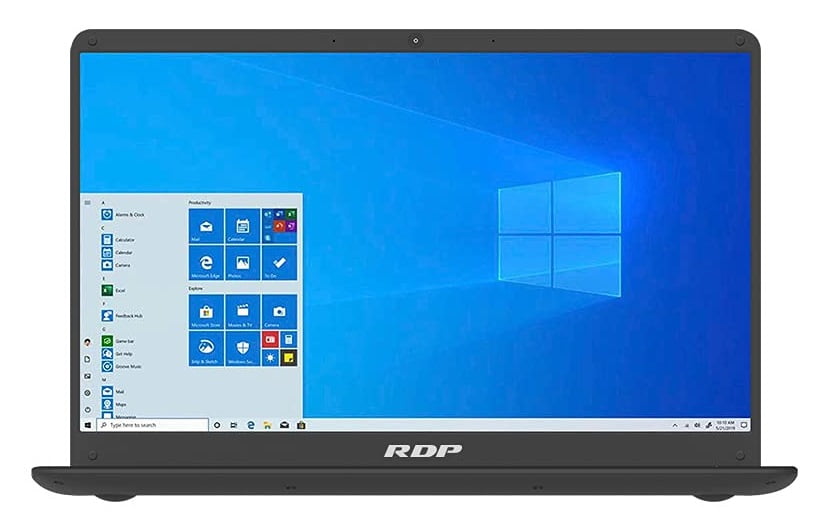 RDP ThinBook 1010 review. In 2022 laptop under 20k subject is getting hotter and hotter as new technologies keep developing and competition is increasing. It wasn't long ago, no laptop below 20000 was offered on the market. However, thanks to market competition and brands like RDP, we could find laptops below 20k.
The RDP ThinBook 1010 laptop is one of the most powerful laptop under 20000 that you can purchase in January 2022. It's made in India Laptop, which is an ideal choice for budget-friendly purchases. At just under 20k, it's hard to imagine the possibility of an HD screen and quad-core processor that has 4GB DDR4 RAM and 64GB of inbuilt storage, which can further be upgraded with 1TB SSD or HDD. Suppose you're searching for an affordable laptop that fits within your budget for daily activities, light office work, or for playing old titles games. In that case, the RDP ThinkBook is an excellent value for money. so keep continuing RDP thinBook 1010 review.
RDP ThinkBook 1010 vs all Laptop under 20000
Here is the detailed analysis of the RDP thinbook 1010 review and comparisons with other laptops under 20000, the highlight with green are better hardware and feature.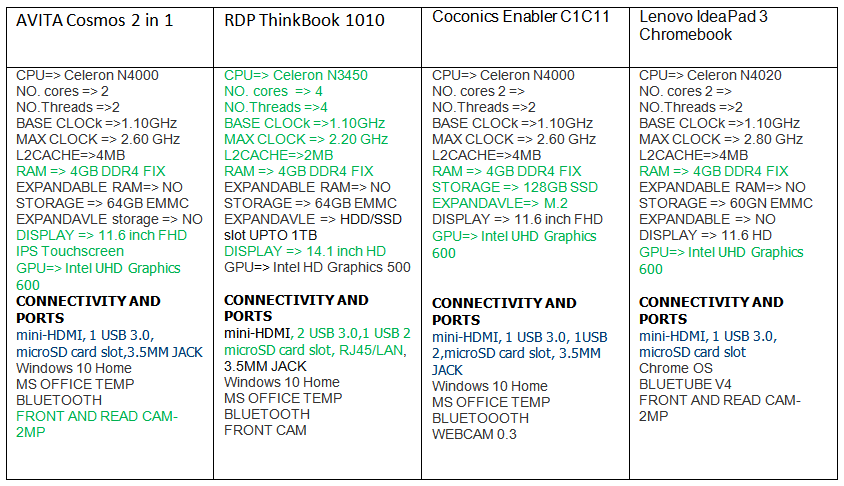 Processor the most important (RDP ThinBook 1010 Review)
In terms of the RDP ThinBook 1010 Processor, it has Celeron N3450. It's an entry standard CPU. It doesn't perform like I3 or I5. However, it will perform quite good with everyday usages. It is equipped with 4 cores and 4 threads, which means you'll be able to open at least 10 to 12 usable Google Chrome tabs with background videos or MP3 playback songs with 4GB ram.
| | |
| --- | --- |
| Launch Date | 09/01/2016 |
| Lithography | 14 nm |
| Total Cores | 4 |
| Total Threads | 4 |
| Burst Frequency | 2.20 GHz |
| Processor Base Frequency | 1.10 GHz |
| Cache | 2 MB L2 Cache |
Graphic
Unfortunately, when it comes to the GPU of RDP thinBook 1010, there is no dedicated GPU, but you will get Intel integrated HD Graphic 500, which is not great. Still, for day to day work and office work is just fine, the IGPU base Frequency is 200 MHz, and Burst Frequency is 700 MHz, under 20000 you won't get any laptop with a dedicated GPU. If you know any laptop with dedicated GPU under 20k than please feel free to comment down below. As per our research we cannot find any Laptop under 20000 that have good integrated GPU
Gaming test
For gaming, you can play plenty of old titles. I tried a few games. If you are thinking game like GTA 5, hold on. I tried to play just for curiosity, and the FPS was 7 to 8 with the lowest setting possible, so for the heavy title, no matter how much you tweak with the game setting, you will never get more than 10 fps. This laptop will become a rendering laptop for new games rather than a gaming laptop.
However, games that come out before 2010, like Call of duty 2007, COD 2009, run pretty well. Just make sure you upgrade to at least 128GB SSD.
So for gaming RDP ThinBook 1010 is defiantly not a laptop to purchase. Under 20000, there is no such laptop that you can buy for gaming intention. The RDP thinbook is for lite office work and student work.
Display (RDP ThinBook 1010 review)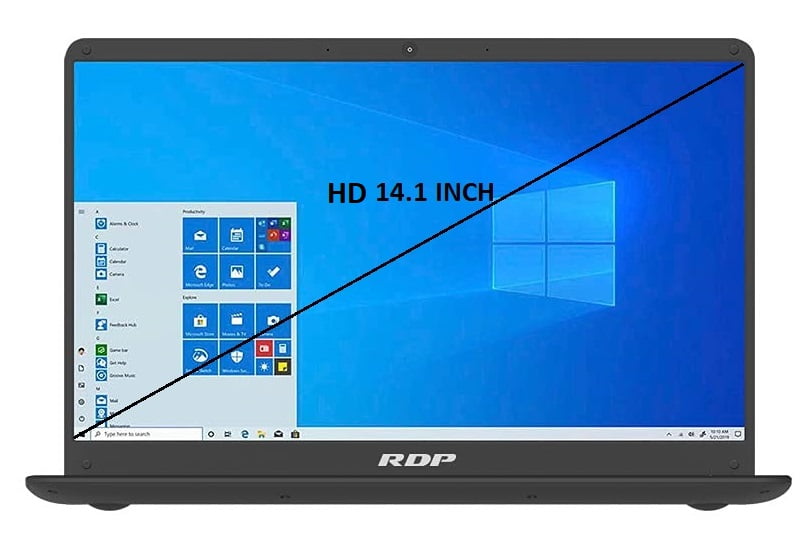 The Its RDP thinBook 1010 features HD 14.1 inches with an anti-reflective display, 1366 768 pixels which gives crystal-clear images.
The viewing angle is suitable for media playback and office work. If you ask me what is the best-looking Laptop for under 20000? I can confidently say that the most amazing visually appealing Laptop is the RDP thinBook 1010 because of its bezel-less display and viewing angle. However, the main drawback of this Laptop is its lack of FHD, which is considerable for this price range. Under 20k, you have to sacrifice some features.
Buildup quality
The build-up quality RDP 1010 is excellent and mostly made of standard quality plastic, making it lightweight. The body is slim as named thinbook. However, you have to be careful while handling because it is slippery, not much but you have to careful.
I/O Ports and Battery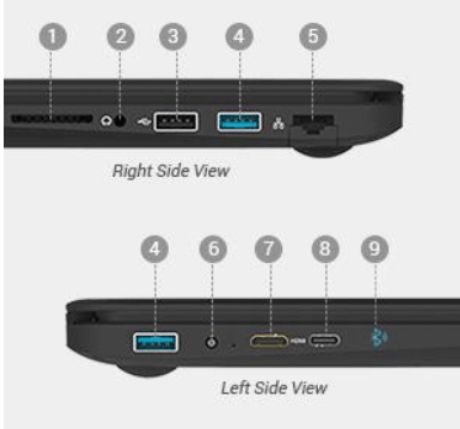 1. Standard SD Card Reader
2. 3.5 mm Combo Audio Jack
3. USB 2.0
4. 2 x USB 3.0
5. RJ45/LAN
6. Power Input
7. Mini HDMI
8. Multifunction Type-C
9. Bluetooth 4.0
Now coming to the Battery, As per the RDP claim, the thinbook 1010 can last for 8 hours with normal use. However, we can get 6 hrs and 41 minutes which is excellent for any quad-core laptop, thanks to low power consumption Celeron N3450 chip and RDP 38kh battery design. However, heavy work will give you 5 hrs and 27 minutes of backup, which is more than sufficient.
Keyboard
One of the most delicate components of laptops is the Keyboard, no matter how much its cost, the Keyboard of your laptop will become unresponsive after a certain point. Therefore, we strongly suggest purchasing an external keyboard and mouse. It can add years of life to your laptop. The RDP 1010 keyboard is very soft and responsive. However, we suggest using an external keyboard and mouse. I recently bought a laptop for thirty thousand, and it took just nine months to give problem with Keyboard. However we don't want to name the brand of the laptop. The problem was very annoyed the space bar has started typing by itself. So for RDP, you could buy an external keyboard and mouse for more prolonged use. If something goes wrong with the external Keyboard, then just throw it away.
Camera & Speaker (RDP Thinbook 1010 review)
RDP 1010 has the Inbuilt WebCam, which image quality is acceptable considering the price. If you are purchasing this laptop for an online class conducting, we suggest not to, unless you buy an external camera.
now coming to audio department laptop is equipped with Dual Mic & stereo speakers for superior audio and video calls.
Can RDP edit videos ?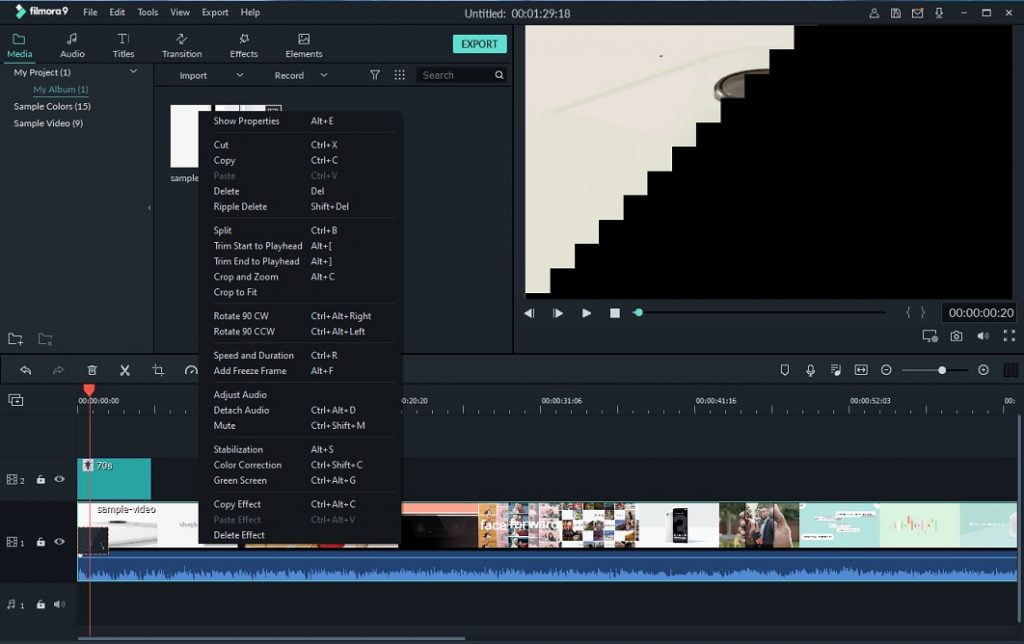 The only video editor we can run is filmora 9 and VSDC. Other than filmora 9 VSDC, we cannot run any other popular video editing software, However we tried but its lags too much, even with filmora 9 and VSDC, heavy files of more than 500Mb start to lags. Editing 720p is okay with the file size of 100MB to 500MB.
If you want to edit video with this Laptop, we suggest closing all other background programs and minimising your ram usage. You can tweak ram usage in many ways. You will find tons of videos on youtube to minimise Ram usage.

while doing RDP Thinbook 1010 Review, we come to know that the laptop produce bit heat, which is normal for any laptop however we suggest to get cooler, here are the best laptop cooler under 2000 and laptop cooling pad under 1000, in conclusion we will say, yes you can do lite editing like cut, marge and title heading video editing, but if you are planning for heavy youtube video editing or professional level presentation than this Laptop is not for you.
Can RDP 1010 upgradable (RDP ThinBook 1010 review)
Under 20000 laptop, very few brands offer you to upgrade your laptop, but in RDP 1010 case, you can upgrade yourself. You can upgrade storage up to 1TB SSD or HDD to its empty compartment. Unfortunately, you cannot upgrade CPU or Ram. with just 20k, we are getting more than expected.
Post-sales service
This is the first laptop from RDP that we are doing a detailed review; before promoting a new brand, we thought about post-sales service, so we did a ghost call, surprising they pickup" which is not very common for new Brand"and created a support ticket asking for the device serial number,
In conclusion, the RDP post-sales service is doing great work as of now.
specification
| | |
| --- | --- |
| Product Dimensions | |
| RAM Size | 4GB |
| Storages | 64GB |
| Hard Disk Description | SSD |
| Optical Drive Type | N/A |
| Operating System | window 10 |
| Processor Brand | intel |
| Processor Type | ‎Celeron N3450 |
| Processor Speed | Max 2.2 GHz, base speed 1.10 GHz |
| Processor Count | 4 |
| Graphics Card Interface | Integrated |
| Special Features | Anti reflective |
| Display size | 14.1 inch |
| Display Type | LED |
| Resolution | HD 1366 x 768 Pixels |
| Wireless Connector Type | ‎Bluetooth, Wi-Fi, Ethernet |
| Number of Ports | 8 |
| Total Usb Ports | 3 |
| Keyboard | FULL SIZE |
| Item Weight | 1 kg 400 g |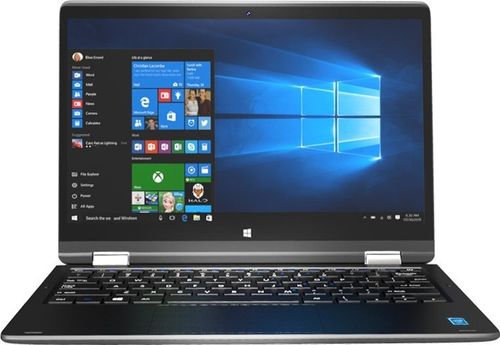 Verdict for RDP ThinBook 1010
If you are searching laptop under 20000 with minimum sacrificing in its features, then RDP ThinBook is an excellent choice. There is only 2 laptop under 20k that offers a four-core CPU; one is RDP 1010 and iball Premio v3.0. However, the only two missing things in RDP 1010 is a good webcam and FHD display, but we all know that under 20k laptops. We won't get everything. If you are looking for a laptop for a student, office work, or secondary backup laptop, go ahead and get this laptop asap, there are no other laptops that offer this feature within 20k